Today, I am posting a record that I really dig. I found this record among a bunch of other killer records in an antique store while I was in San Antonio and like a lot of great records I found down there, I know next to nothing about it. The limited info that I've found out about this record has been pretty useless- Jimmie Lee Gaston was a gospel singer and preacher from Dallas who recorded this record. Hmm. Well, thats all I got.
In spite of knowing next to nothing about Jimmie Lee Gaston, this record is a motherfucking killer. Both sides slay. Both sides start out a little slow with some truly beautiful guitar playing and then kick into a stomping gospel shuffle with incredible background vocals.
In my opinion, aside from the recordings of Rev. Louis Overstreet and Rev. Charlie Jackson, this is one of the greatest gospel records I have ever heard. Please if you know anything about this record post a comment. Seriously, do your self a favor and listen to these two sides and make sure you have a blessed day.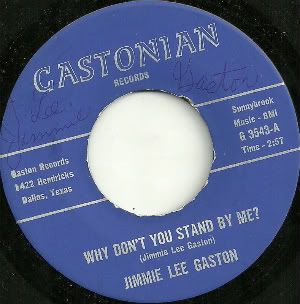 Why Don't You Stand By Me
Oh Lord