I've been wanting to do a post on Mexican Rock N Roll for a while and now seems as good a time as any. I've slowly been picking up some really cool Mexican records over the last few months at flea markets here in Texas and after a particularly good Sunday spent at the flea market I thought I'd put together a little something on some of the coolest Mexican Rock n Roll records I've found so far. Rather than just posting a mix though I'm gonna do something different and feature a label scan and whatever thoughts I might have on each of these records, you can also just download the mix that will have all these mucho cool selections on it too. These records span the gambit from rockabilly to rock n roll to garage and a lot of them sound like a wild mix of the three. I don't speak Spanish and can only understand a small amount so don't count on my comments being too enlightening. Also just so you know I haven't cleaned any of these records and so they all sound pretty scratched up.
LOS CRAZY KINGS- TWIST DE LA ABUELITA- AJUA! RECORDS


This might be one of the most bad-ass records I have ever found. Period. There a very few truly mind blowing 45s that I have discovered and have never heard before and this is definitely one of them. "Twist de la Abuelita" is undeniably not one of the most profound songs ever penned (for Christ's sakes even my guerro ass knows that the Crazy Kings are singing about doing the twist with their gandma!), but that only adds to the records appeal in my book! From the opening notes of the muddy out-of-tune bass line and then the distorted and completely fucked up guitar intro to the end of this 1 minute 20 second song this platter is a fucking winner! Records like this are meant to be played LOUD. Like most of these records I know nothing about Los Crazy Kings who the label lists as being Juan Jose, Canchola, Indalecio, and Anastasio. Any info on this forte four would be greatly appriciated.
LOS MONJES- JANKY PANKY- CBS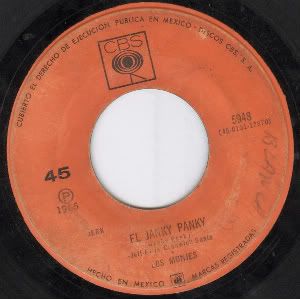 Here's another super-cool record. This one is by Los Monjes (The Monks) and while I can't turn up a whole lot of info on this group either (I can't say I've tried too hard) it seems that this band, like the other Monks, were a rock n roll-garage and later psyche group that dressed up like monks and put out a few insane 45s. This JANKY PANKY is pronounced Hanky Panky and as you might have already guessed is a cover of that ever loved American rock n roll standard. The record boasts a great
Lucille
inspired bass line, killer organ, fierce vocals and cave man drumming that just barely come together (and come close to falling off the track all together a few times) and that is really what makes me love this record. Again another one to play loud this time with lampshade on head.
LOS BLUE KINGS- GUERA TWIST/BAILA NENA BAILAR/ MUCHACHOS- ALEGRIA


Here are three songs from Los Blue Kings from an EP on the Alegria record label. There is some information on the internet about this group, but most of it is in Spanish so I really can't tell you much about them. Apparently Los Blue Kings first came on the scene in 1961 and later became Los Iracundos around 1963. I don't know anything about Los Iracundos, but if you use google and read spanish you might be able to gleen more than I could. Regardless, these three selections are all pretty squarely found on the rockabilly side of town and are all pretty solid in my opinion.
Guera Twist
which I'm pretty sure means "white woman twist" is great. The guitar solo is short and sweet and the lyrics are pretty straight forward.
Baila Nena Bailar
steps it up a bit with some snarling volcals and another great guitar solo. The last song on the EP,
Muchachos
, is equally rocking even though the call and response vocals about all the muchachos doing the twist are a little bit goofy, the guitar solos are once again priceless.
LUIS "VIVI" HERNANDEZ- CHIPI CHIPI/ YA VOY- CISNE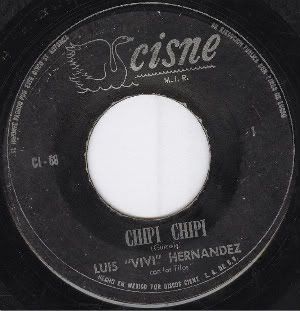 After digging through piles of moldy 45s at a flea market in San Antonio a few weeks ago, I walked outside into the 104 degree heat, bought a beer from a booth and sat down at a picknick table. I shuffled through some of my scores and finally put this record on my portable turntable. THIS IS THE FUCKING SHIT is all I could think. I have no idea who
Luis "VIVI" Hernandez is or was, but in my humble opinion he must have been some sort of god.
To me, both sides of this record embody everything thing that every rockabilly record should be (and too often is not). Senor Hernandez screams/shouts his way through these songs as every rockabilly performer should have and stops only for guitar solos which are completely retarded. Like I said- This is the fucking shit!
LOS REBELDES DEL ROCK-
LA HIERDRA VENENOSA-
DIMSA
Right here we have another solid sender from south of the border. I don't really have much to say about this kick ass cover of
Poison Ivy
except that it is excellent. Play it loud.
LOS ROCKIN DEVILS- BULE BULE- ORFEON


Los Rockin Devils- the name says it all. Well at least it says teenage boys making loud music and wanting to pick up chicks pretty clearly. And honestly isn't that what rock n roll is all about? This record is a pretty straight forward cover of Wolley Bully. Its wild and stomping and is definately worth playing real loud. Apparently Los Rockin Devils are still around and have been in a ton of movies and put out quite a few albums as well. You can find more on Los Rockin Devils on their website here: http://www.losrockindevils.net/.
Here are all the tracks put together and you can download them as well:
http://www.divshare.com/download/7972568-f2e