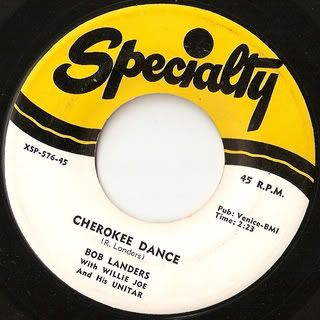 This is a mix of 50's and 60's RnB 45s I made a few months back and have sent out to a few poeple. Its one of my favorite mixes so I figured it would be worth posting here. If you like it let me know. I'll post the track list in the comments if people want to see it.
You can download it here:
http://www.divshare.com/download/6078788-21a
6-16-09
Here's The Track List...

Hey Little Willie- X-Cellents - Smash
Cherokee Dance- Bob Landers with Willie Joe and His Unitar- Specialty
Bull Frog- Johnny Moore and his New Blazers- Rendezvous
Take Me With You Baby- The "5" Royales - Home of the Blues
Dick Tracy- The Chants- Verve
Comin Down- Jackie Shane- Sue
Wig Job- Johnny Niles- Mercury
Mama Linda- The Monitors- Specialty
Uh Uh Baby- Little Willie John- King
Little Indian Girl- Billy and The Moonlighters- Crystal Ball
I'm A Lovin' Man- Young Jessie- Mercury
Family Dance- Bunny Sigler (Mr. Emotion)- V-Tone
The Grunt- Eddie Kirk- Fortune
Oh Red!- Smiley Lewis- Imperial
Troubles- The Rollers- Bell-Star
Hey Mr. Taxi Driver- The Diplomats- Arock
Da Da Goo Goo- Harvey- Chess
Chewing Gum- Danny Brown- Earth
Flat Foot Sam- Oscar Willis- Argo
Money- Barret Strong- Anna
Will Travel- Lee Tillman- Ron